Do you need more performance?
We have it: We produce Furniture components according to your conceivabilities.
The increasing variety by constant quality is one of the greatest challenges at the furniture industry.
As a reliable partner for the furniture industry we also use decors from our customers. We have more than 40 years of experience in laminating of wooden materials. When configuring customised decors, we guide our partners through the entire process of colour and pattern matching and assist them with their selection.
We also offer the development of the desired decor and support the customers until all decisions have been made and their individual requirements have been implemented.
Our customers can rely on the high and consistent quality of our products as well as on a smooth on time cooperation.
Perfect from the edge to the drilling
At Knübel we manufacture simple and complex finished parts in medium and large quantities for all sectors of the woodworking and furniture industries. On state-of-the-art production lines, the finished furniture parts go through all production steps from edge processing to drilling and milling by CNC machines.
Production and delivery of the finished parts are precisely oriented to the production flow of our customers. In this way, we guarantee that all finished parts are always available at the right time and enter our customers' production smoothly.
With prefabricated parts from Knübel, our customers maintain their flexibility and save themselves expensive investments at the edge of their core competences.
In terms of smart and secure processing, we support the networking of the ordering system with our data processing and thus secure processes and deadlines. Industry 4.0 is a challenge that we accept. We use the support of our ERP system to avoid errors and optimise delivery times.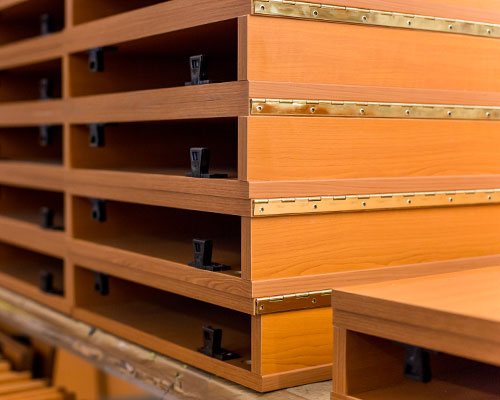 Series manufacturing for trade and DIY
For the retail and DIY segments, we offer our customers the production and assembly of assembled and disassembled furniture series, starting with design, through production and assembly, to packaging.
Our customers rely on the fact that production and assembly at Knübel work together smoothly. For us, piece accuracy is a matter of course. That is why we ensure that your order is ready for loading on time in the packaging you require and in exactly the agreed quantity.
Delivered well protected to the customer
For furniture series that are sold disassembled in the self-service furniture trade or via DIY specialists, we offer our customers packaging and assembly up to on-time delivery.
At Knübel, we attach great importance to safe and clean packaging that protects the furniture parts and enables cost-effective loading or shipping. For the start-up of new series, we support our customers on request with the planning of the packaging and implement customer-specific requirements individually for them.
The close cooperation ensures flexible and reliable planning, packaging and handling in the sense of modern logistics.
In furniture production, high precision and efficient solutions play a key role
Benefit from our modern CNC machining centre and its detailed and economical production.
Our CNC machine for free-form parts processes all commercially available edging materials such as ABS, PP and PMMA edges with millimetre precision. Even the smallest radii and all types of milling can be realised. Whether external and internal contours or pocket milling: The interface of the CAD/CAM software enables the uncomplicated transfer of even highly complex 3D data. In addition, all gluing variants are possible. From the most common edge bonding with EVA hotmelt adhesive to the more water- and heat-resistant PUR adhesive to the zero joint edge: Expect solutions in perfection from us.
Well thought-out design for better furniture
We support our customers in the furniture industry with product development and work preparation. We take over the complete construction of disassembled or assembled furniture and DIY articles.
Our design department develops the product until it meets our customers' requirements and sets the course in materials management for lean processing of production, assembly and packaging.
From our many years of experience in coating, we know the current trends and decors and support our customers in design development and decor selection.
Discover our innovation in lightweight panels now: Knübel has developed the innovative Albasia plywood panel ALBA LIGHT CORE especially for the finishing and furniture construction of mobile homes or in the automotive, boat building, shop fitting and trade fair construction sectors.
The lightness and stability of ALBA LIGHT CORE sets completely new standards, especially in all areas where lightweight materials are important.
Good reasons,
that speak for Knübel
Knübel has been the efficient and reliable partner of the furniture industry since 1975.
Today, we at Knübel cover a broad spectrum from finished parts for the furniture industry to the production of furniture series to packaging. We offer our customers modern manufacturing capacities and a trusting and resilient cooperation.
With Knübel, your order is in the best hands.
0
Installation of the first machining centre
0
Conversion to ERP system (Industry 4.0)
0
Internal process optimisation, lean management
0
Conversion of the Bünde production site
0
New office building in the Bünde industrial estate
0
Establishment of the Product Development Department
0
Installing the packaging line
0
Takeover by second generation, J. Philipp Knübel
0
Installation of the first edge processing line
0
Company founded by Hans Walter Knübel
J. Philipp Knübel
Managing Director
Christian Eikmeier
Purchasing Manager
Heidrun Eikmeier
Internal Sales
Nicole Heidenreich
Internal sales